Food for parents, fun for kids. All these things combine very well at Recoleta, a pizzeria in Tivat. It is in the very heart of the town, in Magnolia square. Who do locals and tourist like this place so much? The answer is plain as day: the pizzeria has a dedicated playground with special surface, swings, chutes, and trampolines. Most tables are positioned in a way to let parents keep an eye on their children while keeping to their food.
The menu at Recoleta offers an impressive range of pizzas, quesadillas, and meat dishes. Steak here is also good, both price and quality wise. Say how done you want your steak, and the chef won't blow it. The servings are enormous like in most other cafes in Montenegro. If you pin your choice on salad if you are not too hungry better share it with your companion. Just make sure to ask two plates, the waiters will serve a plate each. And remember you can always ask waiters to pack whatever is left over for you.
This is the right place for pasta. Italian neighbors have taught locals to make B+ pasta. There are several types of pasta to choose from (from spaghetti to penne), and they offer Carbonara, Bolognese, Frutti di Mare, and pasta with vegetable stir. I can't say whether they cook it al dente, I never asked them to. I happy with the traditional pasta, but if you manage to have your pasta ordered done al dente, make sure to let us know, we will update this article with another star in favor of Recoleta.
There are cold starters: a plate of traditional Montenegrin young cheese, prsut, and olives, fresh and grilled vegetables, sliced meats and cheeses and so on. There is fish, risotto, hot pancakes stuffed with ham, cheese, or oven-baked under a blanket of thick cream sauce.
In the middle of the dining area there is a window with cakes. Local selection of cakes includes some varieties that are familiar to a Russian stomach, and some that may look unusual and new, like crème pita. It resembles Napoleon cake, only but the sauce is not as fatty, and the sweetness comes from the powdered sugar generously sprinkled on the top layer, an almost dietetic treat.
Locally served vanilla or chocolate soft ice-cream is the desert loved by adults and kids. Of course other cafes and restaurants have it on their menu too, but the ice cream at Recoleta is something completely different. The serving is very large and costs less than EUR 2. Ice-cream is served in a big ice-cream bowl or in a cornet. Feel free to add confitures, syrups, or whipped cream. They have strawberry, cherry, pistachio, chocolate syrups, I can hardly remember all the kinds they have. I like vanilla ice-cream with cherry confiture the best. It comes out not as sweet, a little sour and really nice, with lots of cherries in it.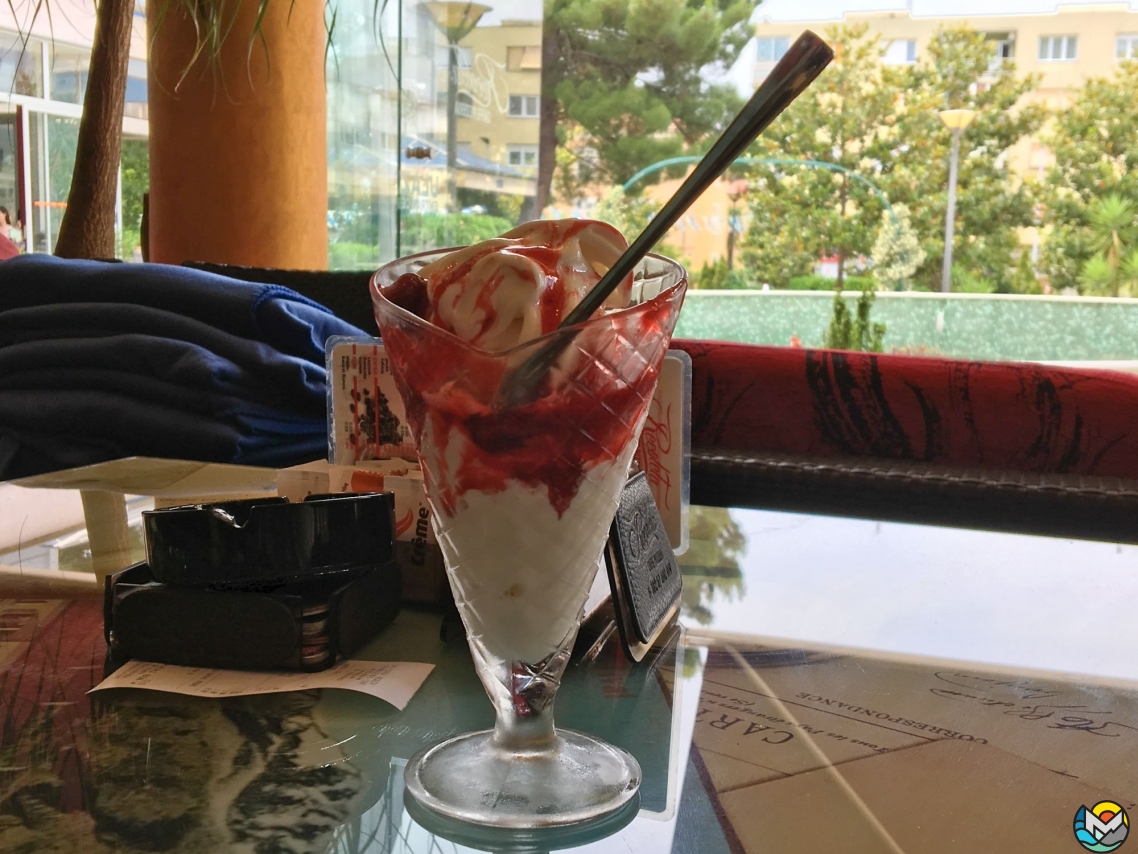 The only thing missing from the pizzeria's menu is soups. Beverages include teas, all kinds of coffee, juices (fresh and bottled), carbonated drinks, beer, and Cedevita (local vitaminized instant drink). While your kids are having fun on the trampolines, you may want to order something stronger than just tea. I am not into wines, and all I can say is that the wine list at Recoleta does not boast any sophistication, but offers the nice and familiar Vranac, Rose, Chardonnay, and Prosecco.
The waiters are nice, can tell where you are from by eye, and almost all of them understand Russian. As a last resort, you can always point at the right line on the menu. There is menu in Russian, English, and Montenegrin.
Some tips for visitors: like at any other café, the peak hours are around lunch (between 12 and 14) and dinnertime. So if you come here at seven in peak season you will most likely be kept waiting for a vacant table to get seated. Your kids may anyway enjoy the playground, even if you haven't ordered anything at all. But we know you will hardly last without a cup of coffee or a glass of mineral water watching your kid testing the playground for hours. By the way, to be allowed to use the playground, young visitors are asked to take off their shoes. The café faces Magnolia square where children ride their bikes and scooters, roller-skate, and play football throughout the year. A nice place, isn't it.
Mind to check your bill once the waiter has brought it. In winter, waiters may be too relaxed, and in the summer rush they may be too busy keeping track of everything, and you may easily end up with someone else's bill. All you have to do is return it to your waiter who remembers what you have ordered and will get you the right one with an apologizing smile. You may pay with cash or card. Tips are welcome like anywhere else in this country.
Bon appetit!